[caption id="" align="alignright" width="452" caption="Dekho Dekho Koon Aya ? Cheater Aaya Cheater Aaya"]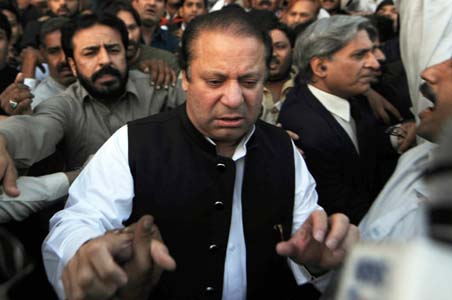 [/caption]
The Thugs, Terrorists, Rapists and Smugglers of PML(Punjab) also Known as PML(Nawaz Sharif) are on Raping, Thuging Spree from the day PML(Punjab) took the control of Punjab.
An Other MPA of PML(Punjab) or PML(Nawaz Sharif) Munawar Gul has raped a Woman.
The Thugs of PML (Punjab) or PML(Nawaz Sharif) have a long history of raping Girls, Doing Smugling and doing terrorism.
Few Months Back MNA Rana Zahid Hussain of PML(Punjab) or PML(Nawaz Sharif) Raped and Murder a Young Girl in Arifwala.
Few days back
MPA and Minister of PML (Punjab) or PML(Nawaz Sharif) Chaudhry Abdul Ghafoor also bisbehaved and threatens the staff on Lahore Airport
when he didn't stop over the custom counter and took his luggage with out inspection.( Chaudhry Abdul Ghafoor is a re known Smuggler).
One of the
PML( N) MNA Haji Pervez was forced to Resign by Nawaz Sharif
to save his face from humiliation as PML N MNA was involved in an Exam Scandel and he sent his nephew to sit in the exam in place of him.
The story didn't ends here.
Few days back MPA's of PML (Punjab) or PML(Nawaz Sharif)
Pir Ashraf Rasool and Ali Asghar Manda, also turned violent against police
and a report was also registered against them with the Sharaqpur Police Station.
These are real real faces of PML(N) MNA's and MPA's the real Thugs, Rapists, Murderers and Terrorists of Pakistan who were doing a long march for free judiciary, but now when the judiciary is restored(I don't agry with it) Why such Animals are still out on the street and  Why there is no action against These people by so called Free Judiciary, This is a Big Questions Mark on Free Judiciary.
In between the i don't seems any Suo Moto Action against these Basterds as the Chief Justice Lahore High Court Khawaja Sharif is deemed to be a worker of PML(N).
All this will continue to happen as the the
Head of PML(N) Shahbaz Sharif is himself a Cheater
.
The critics of Altaf Hussain and MQM from PML(N) should concentrate in building their own character rather then pointing towards MQM.