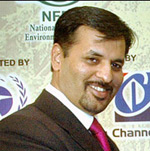 Dear People of Karachi and Pakistan.
Our beloved Mayor of Karachi Mustafa Kamal, a worker of Altaf Hussain and MQM is included in the list of Best Mayors from around the world and the World Mayor Organization is Asking the People to Vote for their Beloved Mayors.
As Mustaf Kamal is the one who built the City of Karachi, i urge all of you to go and cast Vote in Favor of Mustafa Kamal as he is the Best Mayor of the world and let tell the world that a person from a lower Middle Class family of Pakistan can becomes the Best Mayor of Pakistan.
Here is the chance to Show your love to Mustafa Kamal.
Vote for him on the following Link.
As the the world is voting for their beloved Mayors and wants to crown them as the Worlds Best Mayor, here is our chance to show the world that the Worlds Best Mayor belongs from Pakistan.